Sometimes when I watch a movie, I'm just in the mood to look at pretty costumes. Aside from the fact that I'm a costumer, I'm a highly visual person in general. Character development is definitely important to me, and I like a good plot as much as anyone else, but having a beautiful set, good looking actors and, of course, impressive costumes is really what makes a movie stand out to me.
I thought I'd share with you my 5 favorite movies from a costuming perspective. This differs a little bit from my top favorite movies in general, since costuming isn't the only criteria I consider. Some things to note: there are no TV shows on this list, only movies. Also, the list is ranked backwards, so we'll start at #5 and work up to #1, with #1 being my absolute top favorite. Lastly, this list is strictly my opinion, based on movies I have seen. It is not intended to be objective or exhaustive.
#5: Titanic
While not all the costumes in this movie are exactly historically accurate, I still really like them! After all, the early 1910s is my favorite time period in fashion history and even slightly-less-accurate depictions of it still make me happy.
One costume in Titanic that is VERY historically accurate is the very first one Rose wears in the beginning of the movie- the black and white morning suit. It was based heavily off a dress from a real 1912 photograph.
The hat gives me happiness, too. You can't have a 1912 setting without those huge lovely hats.
In some ways I almost like the mother's outfits better than Rose's. Maybe it's because I'm such an Edwardian at heart and her mother's outfits are kind of more traditional.
One of my favorites in the film is this lace dress over a green slip.
The neckline is too open for daywear, though… Still, it is pretty. Once I saw a 1910s dress a lot like this in a local antique mall. I was so tempted to get it but it was out of my budget!
I'll also always have a soft spot for the "Swim Dress" because it looks so much like the Titanic dress that I made (my dress was not inspired by the movie, though).
And of course, everyone knows about the iconic Dinner Dress!
The dress sure is pretty. I could really pick at it with the historical accuracy, though. (I've never seen a gathered waist like that in my entire research history of 1910s dresses, and there's too much black unless she's in mourning or half mourning…. All in all it's been a little too modernized.)
My favorite dress in the entire Titanic movie, though, is not the dinner dress or the swim dress. My favorite is this white gown she wears at breakfast in a tragically short scene.
I wish there were more shots of this dress so we could get a better look at the beading, the 3D flowers, the embroidery, the texture of the chiffon… It's still way too low in the neckline to be historically appropriate to wear out in the daytime. (Plus, it's not nearly warm enough for an April morning on the north side of the Atlantic ocean.) Still, I can ignore those things because I do love the dress that much.
There are things about the plot of Titanic that annoy me but the costumes sure do make up for it! Oh, and so does young Leonardo DiCaprio.
#4: Frozen 2
Yes, Frozen 2 is an animated movie and so it technically doesn't have "real" costumes. Do I care? Nope! They still had to be designed and painstakingly animated. In fact, in Frozen 2 they used new techniques in the industry to make the clothing look more real than it ever has in any other animated movie. For example, when creating embroidered patterns, they would create individually animated stitches and place them onto the clothing! The attention to detail is just mind blowing to me. They also chose a different type of fabric in the various outfits so they could be animated accurately. For example, the animators studied the movement of chiffon versus wool.
Just check out this high-res detail shot of Elsa's travel dress! You can see individual sequins of various sizes, rhinestones and embroidery stitches, the texture of the coat fabric, and even the stitches that attach the base fabric to the bias tape edging! Just mind blowing!
Aside from the realism of the animation, I love the overall designs of the costumes, especially Elsa's. First of all, they're elegant and feminine and I would wear any of them. Second of all they're believable for the situations they're in. For example, I appreciate that Anna wears her hair up in her coronation scene.
(In historical time periods, it was often inappropriate- like, REALLY inappropriate- for women to wear their hair down in public, so I get annoyed with "historical" movies where the women wear their hair down a lot. The Frozen movies get a pass for inaccuracies because it's a fantasy fairytale movie, but still.) Aside from the hair thing, though, the dress is so elegant and queenly.
And of course, do I even need to mention their travel dresses?!
I'd totally wear either of those. I really appreciate that the designers created dresses that are short enough for believable running and climbing, but also really elegant and feminine. They look warm, too! (Well, maybe not Elsa's so much, but she's impervious to cold.) Also, the embroidery on Elsa's dress and the floaty chiffon panels…
Then there's their Arendelle dresses from the beginning of the movie.
I'd wear the heck out of either of those, but especially Anna's! I love the sort of 1950s inspiration in that dress, the orange tulle petticoat, the jacket and shoes… just gimme all of it!
And last but not least in the Frozen 2 discussion is, of course, Elsa's iconic Fifth Spirit dress.
If you follow me on Instagram or Facebook, you know that this is my next cosplay! As soon as I saw this movie in the theater, I just couldn't get that dress out of my head. I wasn't really planning on doing a big new cosplay because I had some other things planned. But several weeks went by and I was still obsessed with it….
I think it was primarily the cape sleeves that made me fall in love. But there's also the little kid in me that screams, "SPARKLES!!!"
This dress is pretty detailed too.
I could write another post entirely about this dress, but I'll save that for another day! In the meantime, please feel free to check out my Instagram and/or Facebook to stay updated on my progress!
#3: Phantom of the Opera (the Broadway version)
THIS PART IS IN ALL CAPS BECAUSE IT IS IMPORTANT. I AM NOT TALKING ABOUT THAT 2004 MOVIE. I AM TALKING ABOUT THE BROADWAY SHOW WHICH IS WAY BETTER. And I count it as a movie because there's a full length video recording of the 25th anniversary performance, so there.
Phantom came into my life fairly recently, last January I believe. And now I'm truly astounded and disappointed that I didn't come to be obsessed with it much, much sooner! It's everything I could possibly want: incredible music, angsty characters, plenty of melodrama, an adorable romance (let me be clear: between Christine and Raoul only), and the most dramatic overture music to ever play while a chandelier slowly descends from the ceiling and a Victorian opera house slowly comes to life. Why was I missing out on this for the majority of my life? *sobs*
Anyway. This post is supposed to be about the costumes so I'll get back to it. I won't describe every costume here, that would kind of take forever, but I'll show you some of the highlights.
First up is Christine's costume from the Hannibal ballet in the beginning of the show (which, by the way, is on my cosplans list)!
This costume might look kind of simple but man, look at the details!
Note that the detail shot directly above is not necessarily from the same costume Sierra Boggess wore in the 25th anniversary. In Broadway costumes they all have the same idea, but subtly different details from show to show.
I wasn't initially a big fan of the red, green and gold color schemes of the Hannibal ballet, but after I made my Christine costume last June, I made part of this bodice and the color palette really grew on me!
Which leads me to the next costume, which is really one of my favorites: Christine's dressing robe from the iconic lair scene. (Hence why I already made a cosplay of it.)
That last picture is more for the ambience than it is for costume details, haha. But I just love the elegant proportions of this dressing robe, its long train, its fluffy lace sleeves… I really don't think I did it justice in my version, but I have a great base to which I can add details!
Probably my other favorite dress she has in the Broadway show is the purple 18th century inspired dress with the mint green cape in the "All I Ask of You" scene.
Oh yes, all this reminds me, let us not forget the absolute adorableness of Hadley Fraser as Raoul. (I'm a Raoul and Christine shipper in case you couldn't tell.)
If you're interested in seeing some funny memes where me and my two best friends dressed up as Christine, Raoul and the Phantom, check out my Instagram or Facebook!
Oh, another costume from the show I'm obsessed with is the pastoral ballet costumes from the opera in the middle of the show.
For the sake of time I won't go into all the other main costumes, but it is a goal of mine (aside from having a complete Edwardian wardrobe) to have all of Christine's costumes from the show. Obviously this will take forever to do but maybe within 10 or 15 years I'll have made them all!
#2: Cinderella (2015)
Do I even need to say anything to explain why Live-Action Cinderella is my second favorite movie of all time for its costumes?
Let's start with the basics, though. The first item of business is her "peasant" dress.
I would wear the heck out of this, first of all. It's just so cute and flattering! Also, I really liked how the costume designer for this film described the dress: not a plain and ragged dress, but instead something that was once pretty and got worn down over time.
Then there's the Stepmother and Stepsisters.
The costume designer described the stepsisters as being gaudy or tacky, not necessarily ugly, and I appreciate that. That's one thing I never liked about the traditional telling of Cinderella- it's understandable that the stepsisters are mean if everyone calls them ugly! I mean that would suck! But in this adaptation, the stepsisters are pretty, but they dress in a tacky, overdone manner.
Another thing I love about these costumes is the intentional blending of different time periods. The stepsisters have some 1830s inspo going on (a time period known for being kind of weird and wonky and kind of silly), while the stepmother looks straight out of the 1940s or 1950s.
Now we shall discuss The Dress. THE Dress. You know the one.
Yup, this is one of the most drool-worthy dresses in cinema.
What blows my mind is that it's just so well constructed! A feat of engineering, really! Apparently the dress used over 200 yards of fabric! And yet it moves so fluidly!
I've seen a lot of "controversy" regarding Lily James' waist in this movie and frankly, I'm sick of it. For a dress this huge, you absolutely need a corset just to support all the weight of those petticoats. That was actually the main purpose of corsets in times like the 1860s: the weight of heavy skirts will literally hurt your back if you're not wearing a corset. Plus, Lily James is already very slender so you only need a little bit of waist reduction, combined with the added illusion of the huge skirt and the ruffly neckline to create the appearance of a very tiny waist. Also, you need a corset in order to give the bodice a smooth appearance. Notice how the bodice of her dress has like, no wrinkles even when she moves? Does that happen when you're wearing a tight top and no corset? Nope.
(Also, I'm pretty sure the whole "liquid diet" she supposedly went on is a myth. From what I heard, she could only consume liquids a few hours before her dance scenes because if she ate solid food during that time she would burp. This doesn't necessarily mean she was only consuming liquids all the time.)
Anyway rant over.
This dress is on my cosplans list, but there's a lot I have to do in the meantime. Keep your eyes peeled for maybe next year when I hopefully get started on this massive project!
Now, what movie could possibly beat Cinderella on this list, you might ask? Drum roll, please…
#1: Star Wars: Attack of the Clones
My favorite movie of all time from a costuming perspective is Star Wars Episode II.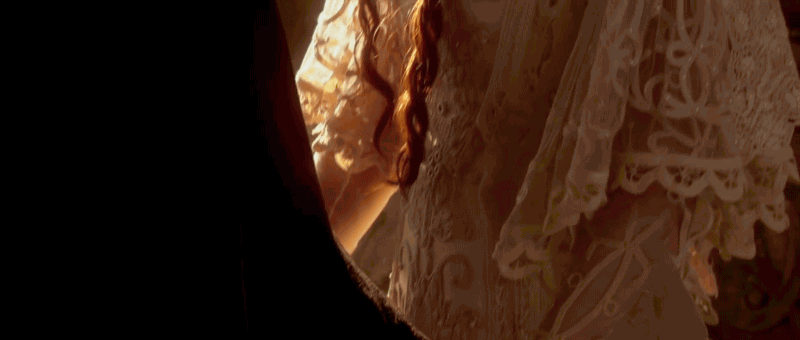 The main reason why Star Wars AOTC beats Cinderella on this list (aside from the fact that it's Star Wars) is because of the level of outside-the-box thinking in the costume design. Cinderella, while the costumes are impressive, is fairly straightforward: it's kind of what you imagine when you think of fairytale dresses.
Star Wars, though. Star Wars, especially Attack of the Clones, is not what you expect when you think of "sci-fi" costumes. You don't see any weird, cheesy space suits with shiny spandex. Instead, the costumes of Star Wars (in the Lucas saga anyway) feel historical. In fact, George Lucas described Star Wars not as a sci-fi but as a period film.
Additionally, even though the Star Wars prequels were made during one of fashion history's worst moments- the early 2000s- you don't really see that gimmicky early 2000s look in the costumes. Not like the original trilogy where the costumes still kinda have a strong 1970s and 1980s vibe. This is because the prequel costumes took inspiration from many time periods and many cultures.
For example, this gown from a Senate scene which sadly got deleted draws heavy influence from the Tudor era. Padmé's hairstyle, however, is not Elizabethan at all. I'm not sure exactly what culture/time period it comes from, but I would guess it's inspired by something Asian. The costumes were meant to borrow elements from all sorts of time periods and cultures we have in real life so they don't look too similar to anything we would already be familiar with.
Contrast that with her "refugee disguise" which nods heavily to traditional Russian fashion.
(I don't know what refugee would dress like a Russian Empress, but you do you, Padmé!)
In addition to the diverse designs of Padmé's dresses, there's also just the quality of the construction.
One of my costuming friends on Instagram made a very accurate replica of this blue velvet robe and I can't remember how many yards of velvet it required, but it was a LOT! The smocking is insane!!
Another dress that's incredibly detailed is her wedding dress.
The fabric used to embellish the dress is actually antique and from the Edwardian era. Maybe one reason I love her wedding dress so much is because it was heavily inspired by Edwardian dresses! The veil feels like it's straight out of the 1920s, too.
Last but not least, how can I not discuss my beloved Picnic Dress?
If you at all followed my process of making this dress, it is sooo richly detailed and textured and there's so many different colors being used. I'm really glad I invested the time into remaking this dress in winter 2019. It's truly a romantic piece, perfect for running around outside on a summer day! You can check out the Gallery (or my Instagram or Facebook) to see pictures of my replica of this dress. Which, by the way, my Picnic dress won second place in the Needlework category in the Star Wars Celebration 2019 costume contest.
(Photo found on the Star Wars Celebration website.)
I hope you enjoyed reading about and seeing pictures of all these lovely costumes! If you have any thoughts about these costumes or maybe some other movie costumes you enjoy, feel free to add a comment. Thanks for reading!